Time With
James McNab
Pre-lockdown we spent the morning chatting to James McNab, founder of design studio 'Think + Shift' about his journey within the industry, the trials and tribulations of manufacturing locally and the importance of material exploration within his work.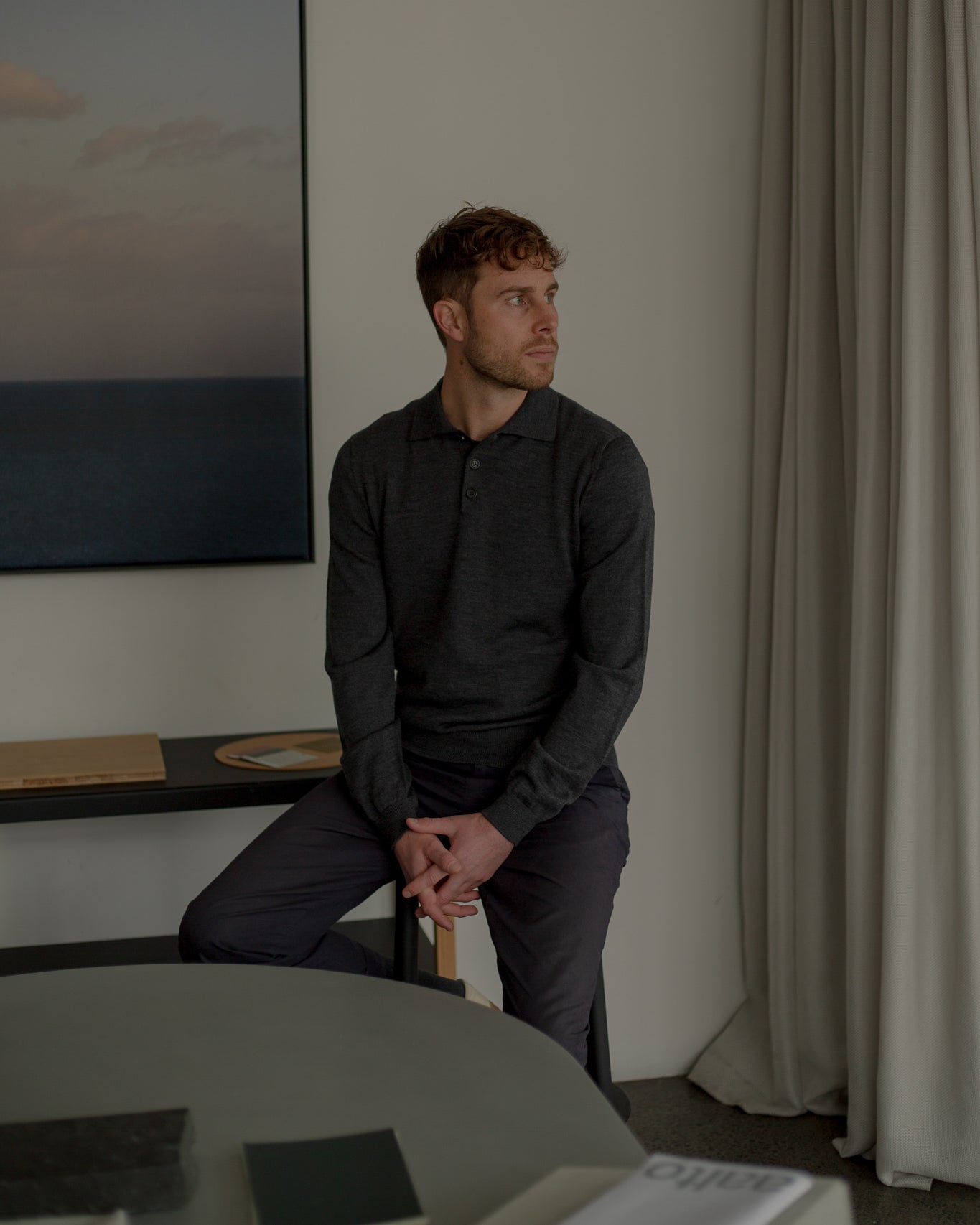 Now specialising in object, furniture and interior design, how did this all start for you?
A company is a great tool to allow you to steer your work around your interests. Initially I cut my teeth in Industrial Design with an interest in both furniture and stylistic objects. I wouldn't say I'm your classic industrial designer, nor interior designer for that matter, so I guess through a gradual progression of fitting out one space after another, my line of work naturally diversified. 
What was the first piece of furniture you ever produced?
After graduating, a sturdy 4 legged cafe stool with a metal cross protruding through the seat.
James wears our Patch Pocket Shirt in Cream and Single Pleat Trouser in Chocolate amongst some of his designed pieces.
How have you found manufacturing locally within your line of work?
I find so much of what I produce is driven by refinement, whether that's to be more efficient or for the appreciation of the finer nuance. It can be a very personal and gratifying exercise manufacturing in NZ. It's somewhat just the nature of design, but I feel there's a lot more problem solving required than other places where labour is cheap. If I was to throw a few words at it, I'd say: collaborative, sheetmetal, plywood, exercise in refinement.
Is there any other art form that inspires your design?
The engineered and industrialised world has a lot going for it. Take a construction site or manufacturing facility for example. I'm interested in highly industrialised processes and adhoc solutions that you may find in these environments. When these ideas are shown out of context, I find this juxtaposition super interesting.
With material exploration and sustainability at the forefront of your design process, how much do you think this has shaped your aesthetic?
In recent times I've taken a very reductionist approach to the pieces and spaces I've designed, to the point where I'm trying to produce less shit and spend more time refining the output.
The designs I've been producing are very singular in their material outputs.
James wears Four Pocket Chore Coat in Natural and Merino Mock Neck Sweater in Amber.
Favourite material to work with?
Hands down has to be aluminium. It's tactile, finishes well and can be both hefty and weightless. Ali can also be recycled and reused without losing material properties unlike other processes that degrade each time they're recycled.
Where do you see the future of furniture and interior design heading?
I have no idea! Design is definitely becoming more cosmopolitan and universal in aesthetic. It's also hard to ignore technology and the complex aesthetics that a machine can create but I'm still to see this aesthetic be done in a way that is palatable for the lived environment.
I had this great lecture at uni on how the pendulum swings back and forth throughout history between the curve (fluid design) and the straight edge (minimalist) movements, take modernism vs postmodernism as an example.
We've been in an environment of relative modernism for sometime, there's been a huge surge industrially and I wonder if we're now throwing back to the curve?
Dream piece of furniture you would like to own?
An original Chieftain Chair by Finn Juhl.
James wears our Patch Pocket Shirt in Cream and Single Pleat Trouser in Chocolate.
What do you seek to achieve when designing an interior space?
To develop an applicable aesthetic language through form, materiality and texture that can apply to the existing environment.
Any tips for creating an effective interior space?
Choose the correct light colour for your environment.
With a move to Melbourne on the cards, what changes will it bring for you? and what do you hope this will inspire?
I'm not entirely sure what we're in for with covid but I'm sure it's going to be a hard graft in the early stages. A lot of my work depends on being able to travel back and forth so we're keeping a keen eye on the situation and borders.
Along with transitioning my business over, I'm working on a handful of smaller, highly industrialised objects which I'll be looking to release 2022 under its own label. Can't say much more other than these items will be centralised around simplistic and industrial ideals.
James wears our Patch Pocket Shirt in Cream and Single Pleat Trouser in Chocolate.